I do like sweets my friends, everyday we have choices to make when it comes to food, so adding the nature's most sweet food... fruit is one of the best choices when it comes to sweets.
Here are two delicious salads recipes that will help with the sweet cravings, since both of them have fruit and other sweet vegetables, they are packed with nutrients, fiber, and between me and you they are delicious.
---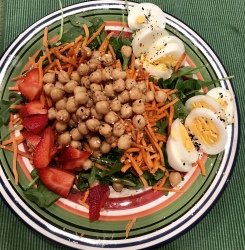 Pri's Super Salad
-Spinach salad
- Garbanzo beans
- 2 Eggs
- Shredded carrots
-Strawberries
My Dressing:
- Olive Oil -Red vinegar
- Garlic Salt
-Sesame seeds
---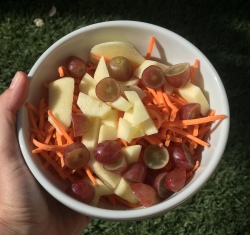 Simple Sweet Salad
-Apples
-Shredded carrots
-Grapes
Dressing
-Lime
-Olive oil
-Salt
---
So, what's your favorite salad and dressing?? Fell free to send me a message HERE
---
ABOUT ME
I'm Priscila Monroe. Health Coach, Mom, Model , Triathlete, Yogi and very passionate about making the world a healthier place.
I believe that everyone deserves to live a Healthy and Happy Life.
I approach Health on a Holistic way, working on improving ALL aspects of life, from Nutrition, Movement , Reducing Stress, Body Image, Emotional Balance since all those different aspects of life affect your overall health.